3 monthly instalments. 0% interest.
Split your payment into 3 monthly instalments.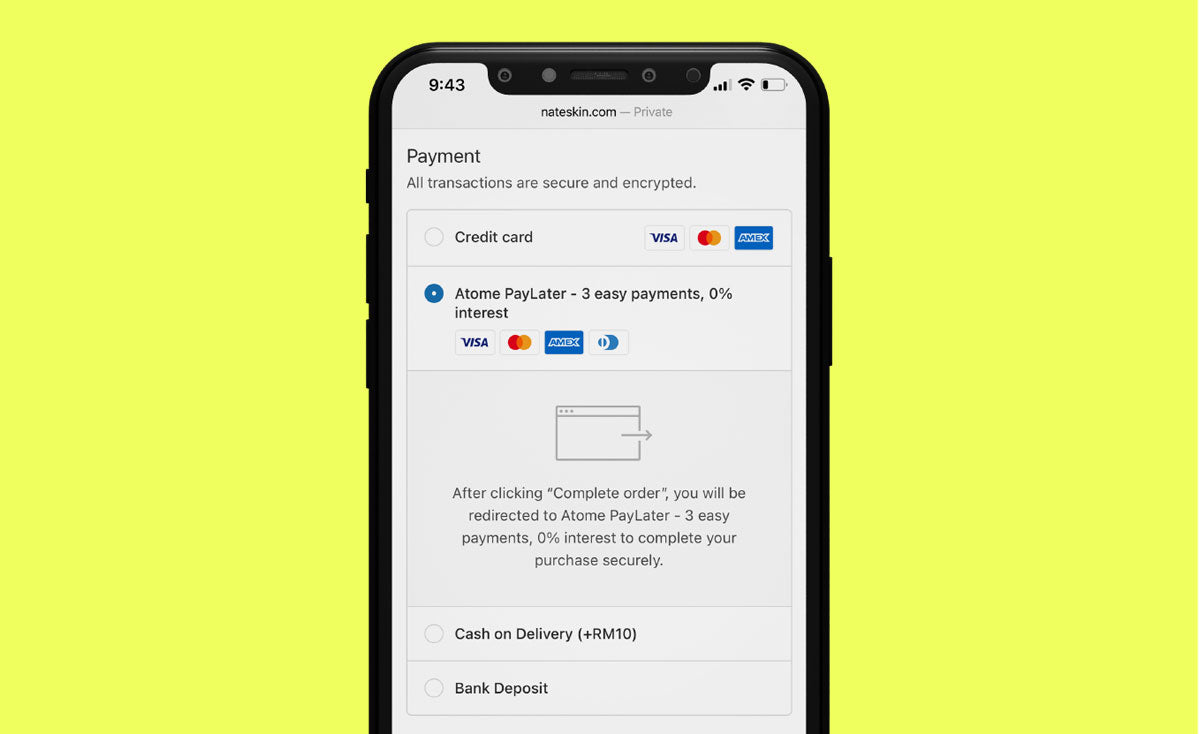 Step 1
Select Atome
Select Atome during checkout, you'll have the option to pay using the Atome app or pay in browser. You'll get $10 off your first purchase when you pay with the Atome app.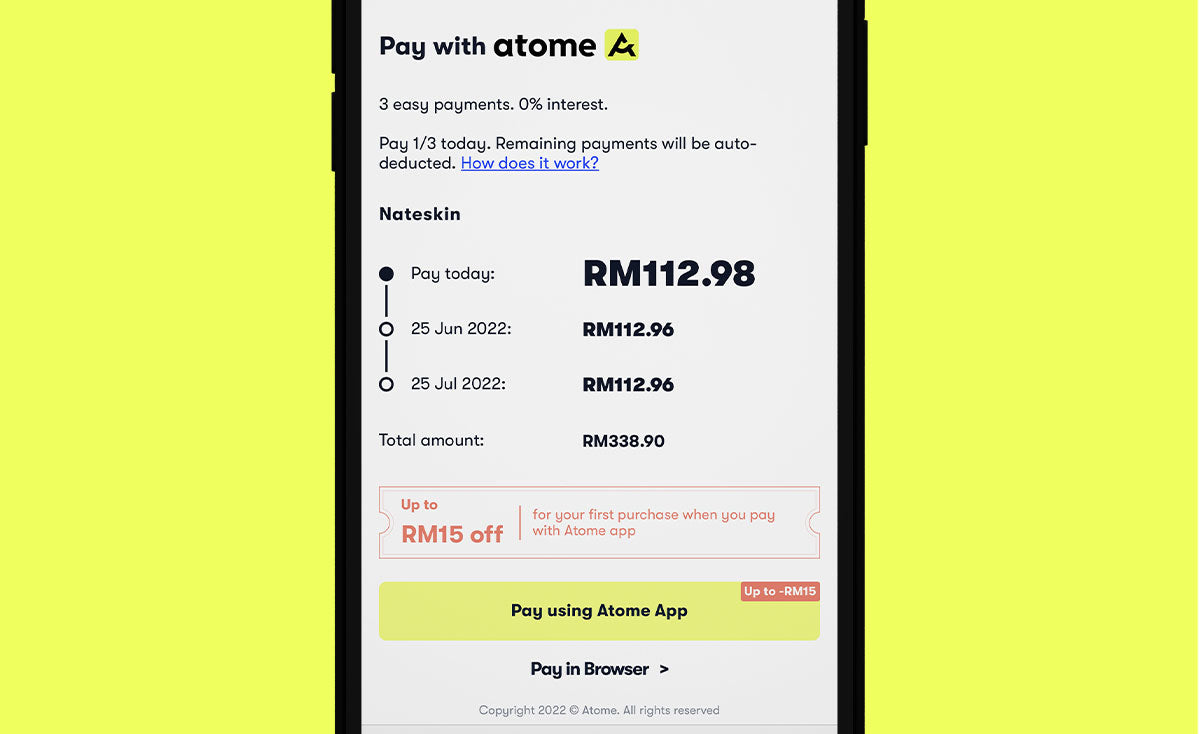 Step 2
Make Payment
Atome automatically splits your bill into 3 equal payments. You'll pay the first payment at the point of purchase. The next two payments will be spread 30 days apart.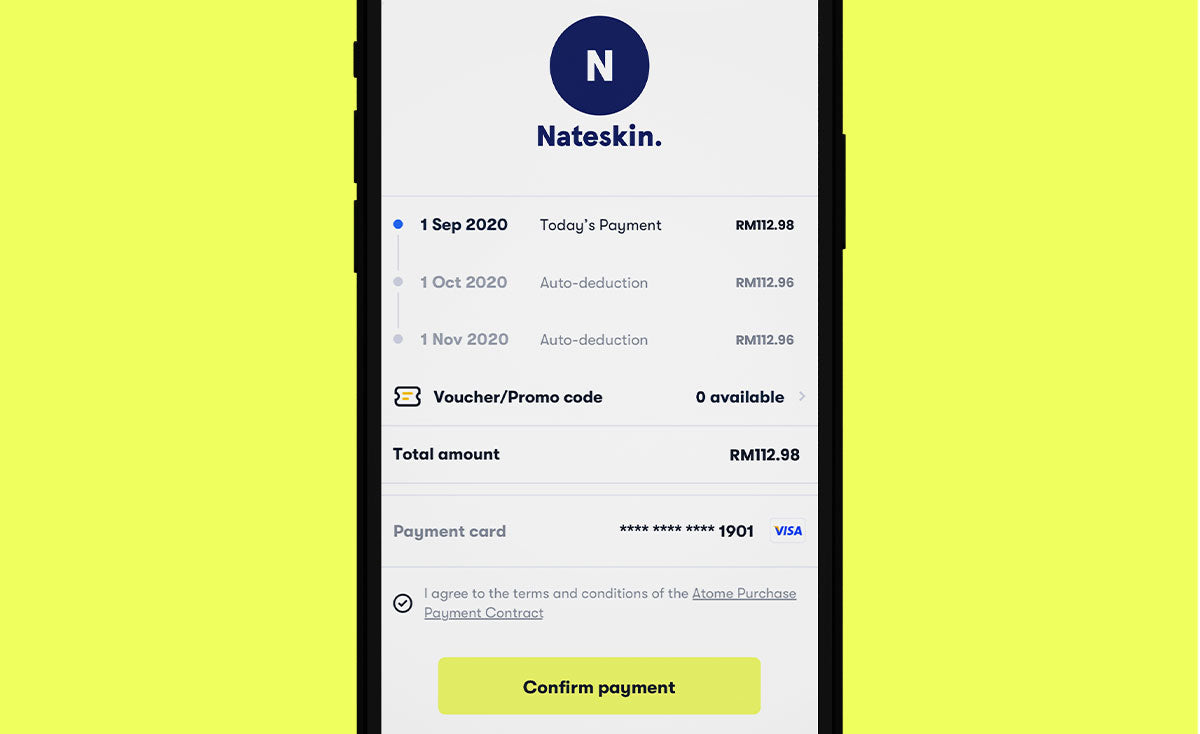 Final Step
Check Bill
Check the status of your payment schedule under "Bills" in our app. You'll also be informed when your payment cycle is complete. That's it!
If you're on your desktop
You can easily scan the QR code on your phone and pay with the Atome app.
Yes, Both debit and credit cards are accepted payment methods for Buy Now, Pay Later on Atome. Making it more easier and affordable for everyone to make installment purchases both online & offline!
No. Atome is a free service. There is no hidden charges or interest for using Buy Now, Pay Later provided that you pay all your installments on time.
If you miss an installment payment, you will be charged with an administration fee of $15 after the second day. Plus, your account may be frozen until the outstanding balance has been cleared.
To be eligible for the Atome service, you must:
-Be aged 18 years and above
-Have a Singapore NRIC or FIN number
-Have a valid Singaporean mobile number registered under your name.
-Own a debit or credit card
For more information on Atome, please visit their website at Atome.sg. If you have any further questions regarding their services, please email them at support@atome.sg.
Yes, shopping with Atome is a safe and secure shopping experience. Find out more about how Atome protects your personal information in their terms and conditions and privacy policy. https://www.atome.sg/